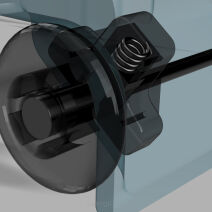 Trinity SuitCase - black nylon fabric with black ABS hardback
Detachable handle (for leading the SuitCase) is included
The SuitCase is prepared for the backpack straps (optional).
Dimensions:
Length: 55 cm / 21,5 inch
Width: 35 - 45 cm / 13,5 - 18 inch
Thickness: 20-25 cm - 7,8 - 9,8 inch
Weight :  from 2,5 kg / 5,5 lbs
The Trinity SuitCase was created with the Trinity ViolinCase and BowCase in mind. It uses every millimeter of your baggage allowance. The stucture is rigid in some sections and elastic in others. It stands up straight and stable.
Trinity SuitCase is adjustable. Its basic size is 55 cm x 35 cm x 20 cm (21,5'' x 13,5'' x 7,8''). By filling its expandable cover and side-pockets one can "blow it up" to the maximum size - 55x45x25. With Trinity SuitCase you can always fly with the luggage of largest size allowed by a specific airline.
Detachable handle included - The handle turns easily around 360 degrees (no strain to the BowCase and your hand, when leading the SuitCase)
Computer (up to 13''), electronics, liquids, documents etc. are easily accessible at the security control. Newspapers, books, scores etc. can also be placed in one of the large, expandable zippered pockets - practical for travel.
Large, robust rollerblade wheels with metal bearings which should last forever, and are easily replaceable.
You can secure the Trinity SuitCase to any solid object (like a shelf in the train) in a similar way as 2 other cases of the Trinity Set - by using the same  Kensington Click-Safe Lock Wire (optional).
Simultaneously you can secure the BowCase - pull the Kensington lock wire through the loop and click it on the SuitCase. It is possible to secure even the entire
Trinity Set. Note: You have to add it to the ViolinCase.